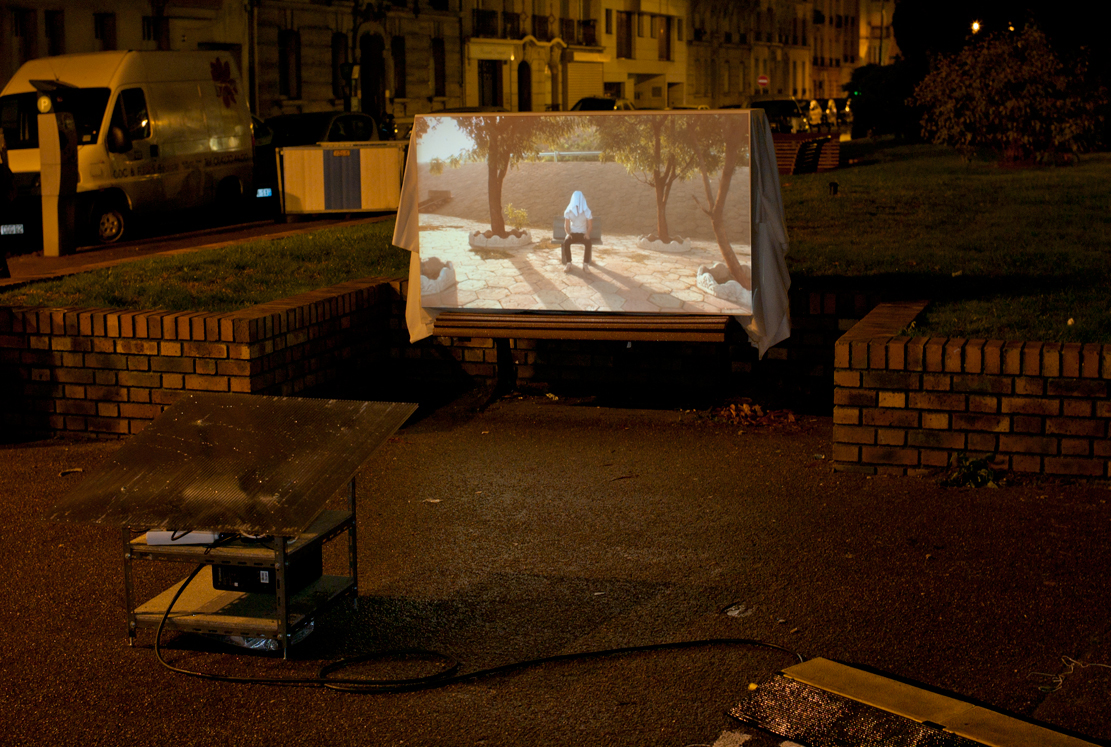 "GHOSTLY BECOMING" - 2012
"DEVENIR FANTOMATIQUE" - 2012
This sequence have been recorded in Bamako, Mali.
I was looking for appearances and disappearances, with the words «ghostly becoming» in mind. I saw two mornings in a raw a man who made this non-action, I reenacted it, on the same bench, with my own temporality.
This still presence, is an attempt to make the world disappear and disappear for the world.

The sequence in the installation is played once in a reading direction and in the opposite direction after, witch producing an infinite loop, a breath.
The display replays what's playing in the video.

A screen is placed on a bench with a sheet over it.

The sound of the video, the street in Bamako, are played in Clichy, producing a spacial parallel.
Les séquences au dessus ont été enregisté à Bamako au Mali.
Je cherchais des apparitions et des disparitions, avec les mots «devenir fantomatique» en tête. J'ai croisé deux matins de suite un homme qui faisait cette non-action, je l'ai rejouée sur le même banc, dans ma propre temporalité.
Cette présence immobile est une tentative de faire disparaître le monde et de disparaître pour le monde.

La séquence dans l'installation est jouée une fois dans un sens de lecture, puis dans le sens inverse, ce qui produit une boucle infinie, une respiration.

Un écran est posé sur un banc, avec un drap dessus.

Le dispositif de monstration rejoue ce qui se joue dans la vidéo.

La vidéo est sonore et diffuse le son de la rue de Bamako, à Clichy, produisant un parallèle spatial.