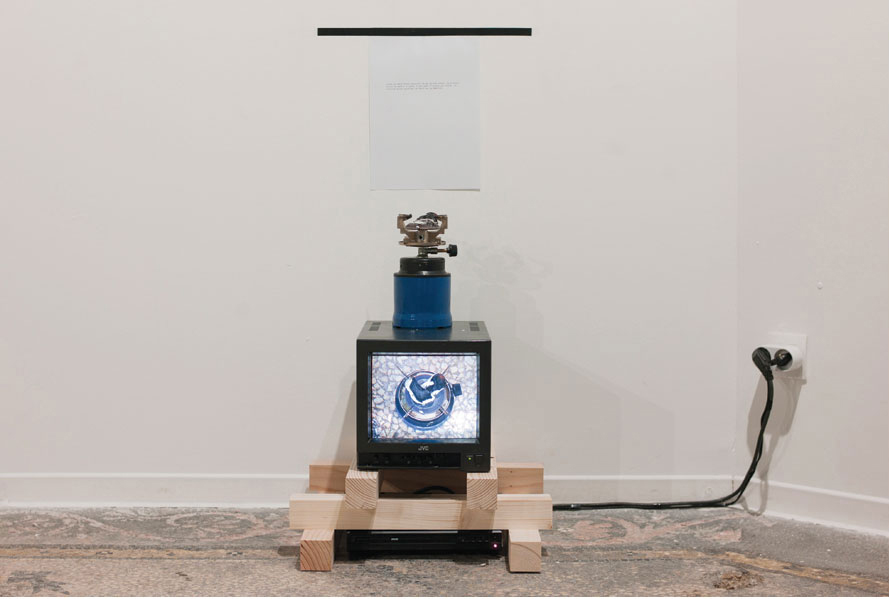 "ANONYMOUS" - 2011 - wooden rafters / montieur / video / burner / ash / text -

A composite object (a burner and ashes) placed on its memory (a video with a gesture, two district orange peels on a burner. This action triggers a slow movement of disappearance of color and transformation of element), over a text.
The smell is a hollow material. This is a piece that is performed in situ. As it is shown the smell generated disappeared.
Anonymous is a dialectic between an object a video text, a sensitive object that tells where it comes from, involving the disappearance of my own origin.
"ANONYME" - 2011 - chevrons de bois / montieur / video / bruleur / cendres / texte -

Une forme (un brûleur et des cendres) posé sur sa mémoire (un vidéo avec un geste, poser deux quartier de peaux d'orange sur un brûleur. Ce geste enclenche un mouvement très lent de disparition de la couleur et de métamorphose d'élément), au dessus un texte.
L'odeur est une matière en creux. C'est une pièce qui est réalisé in situ. Quant elle est montrée l'odeur générée à disparu.
Anonyme est une dialectique entre un objet une vidéo un texte, une forme qui raconte d'où elle vient mettant en jeu la disparition de ma propre origine. /div>